I Joined the Yakezie Challenge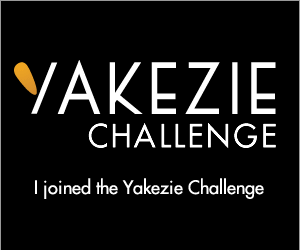 As the title indicates, I joined the Yakezie Challenge.  What exactly is Yakezie?  Yakezie is a network of bloggers who are here to share their message with others and become a more established blogger.  Since my blog is very new it's a great way to meet and great with other like-minded people about blogging and personal finance.  It's like having hundreds of mentors who have "been there"  and "done that".
Slow and Steady Wins the Race.  I want to make progress blogging, paying off debt, and reaching financial independence, but it's not going to happen overnight and that's why I joined.  Keep track of my progress and see how far I have come.  As previously mentioned I just started so my rankings are pretty high, so I'm looking to receive the Most Improved blogger award!  My Alexa Ranking: 1,943,356 Global and 248,001 USA, which is only going to improve, here's where the Financial Samurai posted the ranking challenge, you can find my post towards the bottom.
The challenge lasts for six months and during this time, you are encouraged to post 2-4 times a week, share the posts of others, and get your ranking down below 200,000……..Only 1.7 million to go.
If you haven't yet checked me out on Twitter and Facebook. I'm looking forward to adding and sharing more blogs and articles that I read, because I'm a big believer in immersing yourself, like being dropped in Germany is the best way to learn German, you are around it and in your face every day, it's the best way to learn.  Another example is Chris Rock the comedian, he used to show up at the comedy club every day at 7:45 and try to get on to do a set and stay till 2 am, and they wouldn't let him on.  But you know what he just kept showing up till someone finally let him do his set and he did pretty well.  So I will keep showing up working on blogging, paying off debt, and reaching financial independence.  I will get better, I may not be the next Chris Rock, but I will definitely be working to provide the best stories about my journey.
Likewise, if you're interested in a partnership of sharing posts, please feel free to reach out to me here.   I think there is so many great stories and advice out there that I want to share and be involved so others can get to there financial goal.  I also want to give a thank you to E.M. over at journeytosaving for the encouragement to get started.  Also in the short time I have joined the Yakezie Challenge, Color Me Frugal and Krantscents just for saying hello.  Remember sharing really does mean caring!
Photo courtesy of narcissus.me